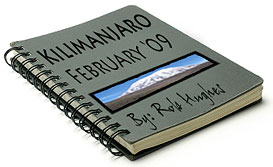 A Climbers Diary
Day 2 - 21/02/09                             
Acclimatisation Day - 20.00hrs
Moivaro Lodge - 1450m        
---
Well we're finally here. It's 29c at the moment and humid.
Arrival was hot with the usual hustle and bustle of getting through customs and immigration at the airport. After what seemed hours we got into a rather suspect looking mini bus for a longish drive with a smelly (very) driver. Arrival at Moivaro Lodge near Arusha was well needed . We stayed in lovely lodges on a coffee plantation and chilled for a while.
Guy and I had a walk around the area in the afternoon with Jimmy, our local guide to acclimatise to the heat a little. Walked up to a viewing point for Mt Meru (at 4680 m it's the second highest mountain in Tanzania) and rather worryingly it looks do-able. Looked at coffee plantations and banana plantations etc and learned loads of tedious facts about African farming and which crops can be planted with which.
Sorry I forgot to mention this morning's itinerary as it was so memorable. Stan booked a guide for the morning (v expensive) and he took us on an uninspiring trip around Arusha. It's typical Africa and we passed the UN War Crimes Tribunal then went to a couple of local markets where there was a lot of pressure to buy local nick naks. Not really us so we bussed back to the hotel for a chill out. One thing we did find out was that Stan got ripped off by having old not new dollars as they only accept new ones in Tanzania. On a lighter note we all decided that Guy looks like Joe the Eagle from The Muppets. In addition to the facial features he is possibly the hairiest person any of us have ever met. We reckon he's done really well to stay on his hind legs for such a long period of time and we also reckon that David Attenborough will be jumping out of the undergrowth as we go up the mountain to grab an interview to discuss "the missing link" for his latest documentary.
Evening time we went  back to the lodge for a steak and met the group we should have been with last week returning from their summit attempt (originally we had booked to travel a week earlier) They looked absolutely shattered but pleased to have summited and got back safely. One of them was an ex soldier who had lost his leg. He made it but said it was the toughest thing that he had ever done. All recommended we take Diamox.
Two others from our group turned up in the evening called Kate and Candice. They joined our table and we all shared Diamox advice which seemed to be the main topic of conversation. We all returned to our lodges but in the excitement Stan and I stayed up until 2.30 am singing Floyd and being music critics. Very advisable in the circumstances (not).