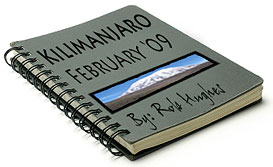 A Climbers Diary
A CLIMBERS DIARY
The following is a verbatim transcript of the memories of my expedition to the top of Africa which is taken from a log I kept every (almost) morning and evening of the trip. With the exception of some minor additions which were annotated at the time of writing due to a lack of space time or energy, it chronicles the feelings emotions and actions of climbing the highest free standing mountain in the world. 
Day 1 - 20/02/09                             
Travel Day - 15.15hrs
In The Air - 37,000ft               
---
Well it's arrived at last. It was about 4 years ago when Stan (Richard) and I first agreed to have a crack at Kilimanjaro before we were both 40 and here I am on the plane with the boys flying somewhere over Libya (I think) en route to Tanzania. The last 3 – 4 months of training has flown by and the final 4 weeks especially have gone in the blink of an eye. Prep prep prep is what it is all about but now I'm not sure that I have actually done enough. True I fell quite fit but is it enough? Have all the trips up and down the Wrekin (the largest hill in Shropshire) and all of the other hills of the Welsh Marches been enough? Have I got the right kit? I know I've got certainly got enough of it as the bank balance will show as it seems that hardly a day went by without me needing to go out and buy yet another essential piece of kit. I'm sure I've over packed
Spent last night with Cath and the kids (Ellie and Jack) at Pete and Jeans in Chalfont having bid an emotional and difficult goodbye to mother. I was up at 3am to get to Heathrow by 4am for the flight to Schipol . The boys were all on good form and when we got to Schipol one of the things that caught my eye was the amount of people in boots carrying rucksacks. There's a lot of them on our plane. Some will make it up, others will not and I just hope that I'm one of the lucky ones that AMS chooses to ignore.
We've just had our in flight meal and I've glanced over at Dave and Guy and they are tucking onto a bottle of red. Longingly I remember my last drink on new years eve and look forward to coming off this mountain and savouring a pint of Guinness. It's strange how the mind wanders. It's hot on the plane and the air is the usual stale "fug" of people. It will be a shock to de-bus into the heat of Kili Airport. The forecast is for rain on the way up the hill then the odd shower  thereafter so it's going to be a real mish mash of weather. After we took off and as the plane climbed I noticed after a while that we had reached 20,000 feet and the air temperature was -25c. That's more or less what we have got to do except on foot.
I was about to sign off when once again I've looked up and around me and there seems to be a lot of fit mountaineering types milling around and looking like they mean business. I hope that they think the same thing about us lot.